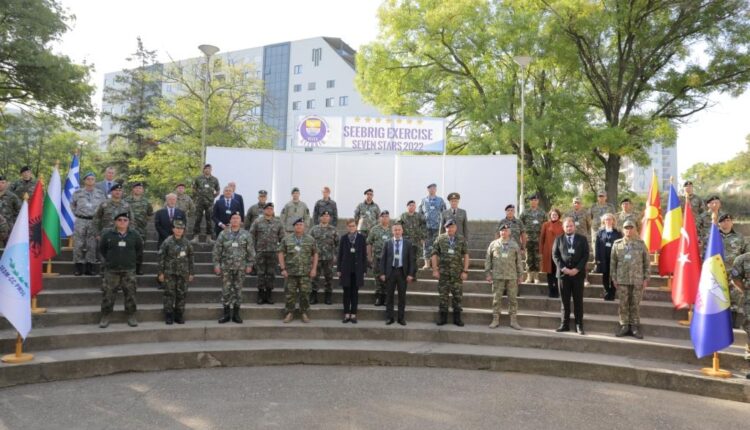 Exercise "SEVEN STARS-22", 28 SEP – 07 OCT 2022, Veles/Na-5
An opening ceremony was held in celebration of the start of the exercise "SEVEN STARS 2022", on Wednesday 28th of September 2022, in Camp "Alekso Demnievski Bauman" – Veles/Na-5.
Brigadier General Evangelos MITRUTSIKOS, Commander of South-Eastern Europe Brigade (SEEBRIG), in his speech emphasized the aim and the objectives of the exercise and stressed the importance of this main event for the brigade – after a hiatus of four years due to COVID pandemic – in terms of interoperability, cooperation with the nation member units and other NATO and non-NATO organizations.
The exercise, as the main training event of SEEBRIG, which took place between 28th of September and 7th of October 2022, was aimed to improve operational capabilities through exercising SEEBRIG HQ and affiliated units, developing a common understanding of Peace Support Operations (PSO), Humanitarian Assistance (HA) and Disaster Response Operations (DRO).
With all the activities simulated in the Na-5 Army facilities in Veles, more than 200 military and civilian personnel from SEEBRIG Nations, augmentees and observers from NATO Rapid Deployable Corps – Greece (NRDC-GR), NATO Rapid Deployable Corps – Turkiye (NRDC-T), LIUTPOLUKR Brigade, Organization for Security and Co-operation in Europe (OSCE), Crisis Management Disaster Response – Centre of Excellence (CMDR-COE), Multinational Peace Support Operations Training Center (MPSOTC) and Na-5 Red Cross, together with SEEBRIG HQ staff personnel took part in the exercise.
On the 6th of October 2022 a distinguished Visitor's Day was conducted, offering the high level political and military guests the opportunity to visit the exercise areas (Staff Divisions, Tactical Operations Center, HICON, Response Cells of the affiliated units) and a dynamic demonstration of tactical PSO activities presented by affiliated units of Host Nation Army in Krivolak training area. The guests had the opportunity to witness capability to contribute to peace, cooperation and stability in South-Eastern Europe and SEEBRIG preparedness to conduct multinational PSO whenever requested by UN or OSCE.
During the closing ceremony of the Exercise, BG Evangelos MITROUTSIKOS thanked all the participants for their contribution to exercise success and emphasized the contribution of SEEBRIG to regional peace and stability.